WordPress Theme Review of MH Magazine Lite a 4 Star Theme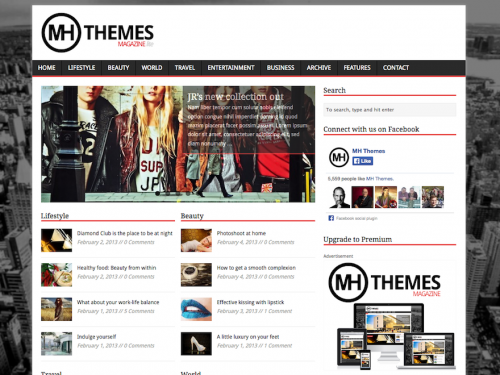 The MH Magazine lite theme is the free version of MH Magazine, a clean and modern magazine, news or blog WordPress theme for online magazines, news websites, blogs and other editorial related websites.
This is the theme we currently are using on the Online Business Reef.
3-27-2015 Please note we will be changing our Theme to a new one after this month. There is no problem with this theme it has served us well. The main reason we are changing is that it is not a responsive theme and we need to make sure we meet Google's mobile site recommendations. This feature is available in the paid version but we our goal here at the OBR is to show you how to make a website with less expenses.
The theme is from a theme building company MH themes that makes both free and premium themes. They have a little bit of support for the free version of this theme on the WordPress site. But if you want more support, especially for theme customization,  you will need to upgrade to the premium version.
More Information Regarding This Theme
So far this theme has worked very well for us. The main reason we switched to it was that we wanted to move away from a single page theme to see if we could get more traffic through more enhanced SEO tactics on a multiple page theme.
So after a month of using the theme we will test this in an article we wrote here.
The support is fairly good and on the free version as outlined above. So far all of the plugins we recommend have worked perfectly.  It works great with standard set of plugins we use. It is fairly easy to use and customize and the learning curve is not to high on this theme. The child theme so far responds well.
Download the Theme Here
Most WordPress themes that are downloaded from the WordPress site have their own support forum located there. In addition to that some developers have their own support area hosted on their own website. This particular theme has its own website and support forum. But you may need to purchase the premium theme for this support.
Get Theme Support Here
Quick Support Tips For This Theme:
These have quite a few easily customizable widgets to make designing a home page a piece of cake. So if you want a theme that can get you up and running quickly then this is the one.
To make a useful 404 page copy the content-none.php file in the wp-content/themes/mh-magazine-lite folder to the child theme folder and modify the text in this file to say what you want.
For version 1.6.1 of MH Magazine lite, you can just delete this in content.php:<?php mh_featured_image(); ?>Please note: it is recommended that you always create a child theme first when you want to modify theme files, otherwise all your changes will be lost after a theme update:
We give this theme a rating of 4.5 with the only a slight deduction for some features that could have been included on the free version.