WordPress Theme Review of OneTone a 4 Star Theme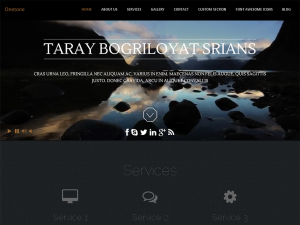 The OneTone theme is part of a newer style of one page themes. Great if you have a small site, or personal blog, or portfolio business. There are six parallax style sections which you can put pretty much any information you want. This site is great for photographers because of a built in gallery section. I currently use this theme for my personal blog. As of 12-1-2014 I have changed this theme to the MH Magazine Lite theme which is a more powerful theme dedicated to the magazine style them I wanted for the new GchanMako report.
The theme is from a theme building company that makes both free and premium themes. There is not really any information on where they are. The support is fairly good and the theme is not to hard to configure.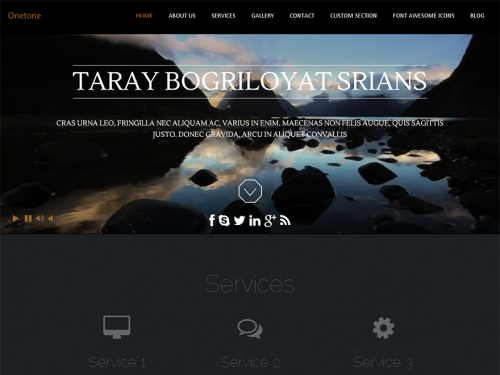 More Information Regarding This Theme
I really like this theme, the front video section makes it stand out and it is graphically beautiful. Once you get past the navigation you can setup a pretty comprehensive site.
The support is fairly good and I have emailed the theme developer twice and got a good response. There are a few bugs that you should be aware of and there is some features that are still a little buggy. There are a few plugins you will need to add in order to make the gallery function a little better. It works great with standard set of plugins we use. I would suggest to learn this theme because you might use it on building a personal branding site.
As a personal update on the OneTone theme, I have since moved away from this theme to a more magazine style theme called MH Magazine Lite. Not that there was anything wrong with this theme I just felt like I needed a theme that was more suited to news and information. The OneTone theme is still an awesome theme and I am still in love with the unique design and front video capability.
Download the Theme Here
Most WordPress themes that are downloaded from the WordPress site have their own support forum located there. In addition to that some developers have their own support area hosted on their own website.This particular theme has its own website and support forum.
Get Theme Support Here
Quick Support Tips For This Theme:
On the first section or any section you cannot switch from visual mode to text mode or you will loose text and formatting. I would suggest you copy the code to a text document in case you lose it.
We give this theme a rating of 4 with the only deduction being how some little bugs are hard to deal with and the customization takes some effort.