WordPress Theme Review of Tempera a 4 Star Theme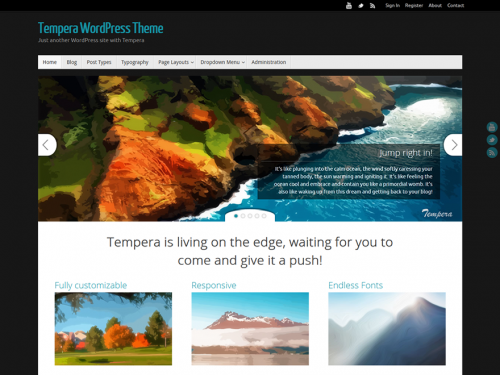 The Tempera theme by Cryout Creations is a really cool theme similar to the Twenty series of themes everyone normally uses as the standard on WordPress. This theme is graphically intense with a huge slider and smaller menu items as photos. Each photo has a crisp line under it, which gives it a clean look. There are a lot of fonts that you can use and the interface with its numerous widgets is very easy to use.
Consider the Tempera theme for a theme overhaul
It has a huge settings menu that is very comprehensive and you can use it to customize quite a bit of the them without having to worry about coding style changes. So please continue on with our theme review of Tempera.
So this theme is from Cryout Creations and they have packed a lot of things in it. The creator has this to say about their theme.
We had to follow a very strict recipe to get Tempera just right. We started with a very solid framework of over 200 settings, added a very light user interface, threw in a couple of mobiles and tablets to give it that responsive elasticity, added over 50 fonts, weren't satisfied so we poured all the Google fonts into the mix, then scattered 12 widget areas for consistency, dissolved a slider and unlimited columns into a customizable Presentation Page then mixed it in as well. We then sprinkled all post formats, 8 layouts including magazine and blog, powdered 40+ social icons and even blended in a customizable top bar for extra density. We also made it translation ready and gave it RTL language support for some cultural diversity. The secret ingredient was love and we might've spilled too much of that. But now Tempera has just the right feel and the right texture and is exactly what your empty WordPress canvas needs. NEW! Tempera now comes in 16 different flavors with preset color schemes!
More Information Regarding This Theme
Right now we are using this theme on a niche full size website. AskAJeeper was designed to be a huge information site and needed a theme that would fulfill our need to be free, and it to be scalable enough for the massive amount of information it would have to contain. So far it has been fulfilling our every need and only time will tell if it can handle the amount of data we want it to house.
The support is fairly good and on the free version as outlined above. So far all of the plugins we recommend have worked perfectly.  It works great with standard set of plugins we use. It is fairly easy to use and customize and the learning curve is not to high on this theme. The child theme so far responds well.
Download the Theme Here
Most WordPress themes that are downloaded from the WordPress site have their own support forum located there. In addition to that some developers have their own support area hosted on their own website. This particular theme has its own website and support forum. But you may need to purchase the premium theme for this support to remove the copyright notice.
Get Theme Support Here
Quick Support Tips For This Theme:
The one tip we can give with this theme is to use the widgets it will make your design a lot easier.
We give the Tempera theme a rating of 4.8 with the only a slight deduction because I dont think that anything can be perfect.