Megapolis Game Review a Truly Mega Game for Simulation Lovers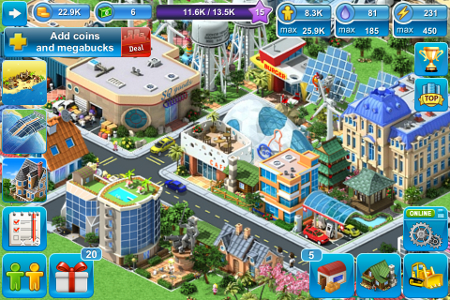 Megapolis is a simulation app for the Iphone and Android phone systems.
It combines stunning graphics, city building and management simulation, and extensive lengthy game play. It is an addicting game with reportedly over 20 million users and this game player gives it a very high rating. You can also sync this item to Facebook and play it on both venues but I don't recommend playing the Facebook app it is slow and quirky.
Megapolis Game Guide (FREE)
I have been playing under my normal handle GChanMako for over a month now and I usually login several times per day to update my city. Take a little time and read my review to decide for yourself if this game is for you and download the app today.
STUNNING GRAPHICS
I play this game on my Iphone 5 and the graphics are awesome. The world is very colorful and there is a lot of attention to detail. Is seems each building, park, trees, and game unit was hand crafted with every detail meticulously gone over. When you start you see grass, with beaches that succumb to water, deserts, some trees, cliffs, roads, and bridges. All the rest you add, build, or finish.
The water has reflections in it, the oceans or bodies of water have depth to them, with waves seemingly crashing into the sand beaches. The cliffs and trees have enough detail in them to make them look as part of the landscape and the  desert has flowering cacti that further adds to the realism of the game. The rest of the game are items that you add, or build within the game.
Each building, home, or structure has design elements incorporated that make each unit unique. The sushi bar incorporates a Japanese style that make is look real. The bowling alley, while futuristic looking, is clearly marked with a bowling ball and pin, Each sky scraper has beautiful windows, antenna, and heli pads. Dams have rushing water over them, bridges have wire and trusses, and freeway have overhead lights.
And much more…
What adds more realism to the game is the animation within each game unit. The roads have cars traveling on them and the sidewalks have people walking on them. Basketball and tennis courts have people playing on them. And the amusement part has a working roller coaster.  Some of the cooler animation are the incoming airplanes from the airport and the helicopter from the fire department roaming the skies. The factories show working assembly lines and you can see children playing in parks and school. Each little game unit can have a whole world going on inside of its tiny little square.
CITY BUILDING
Similar to Sim City this game allows for expansive city building. You can build homes, business, and sky scrapers. There are a couple of different types of units you can build and fall into the following categories; residential, production, infrastructure, resources, decorations, and more. Within those categories there are multiple units that you can build each with their own values, unique factors, and contributions to the game.
Residential units are mostly houses, hotels, apartment buildings, and other building units that house people. There are some very creative designs with most of them unique and full of color and vibrancy.
EVER EXPANSIVE
I now have been playing this game for almost a year and I have hardly scratched the surface. They keep adding new zones or areas to add more stuff to. A tourist island and winter wonderland. All different maps you can travel to. I keep getting new campaigns to do even before I finish the old ones. It does keep you engaged and entertained.
CONCLUSION
If you like strategy games that involve building then this game is for you. You can hook it into Facebook and play on your phone or tablet. Because of this you can play it almost everyday like I do and still not be able to finish in a year. It is fun addicting and worth the download.
 Other Great City and Simulation Games the GChanMako recommends…