WordPress Theme Review of Simplify a 1 Star Theme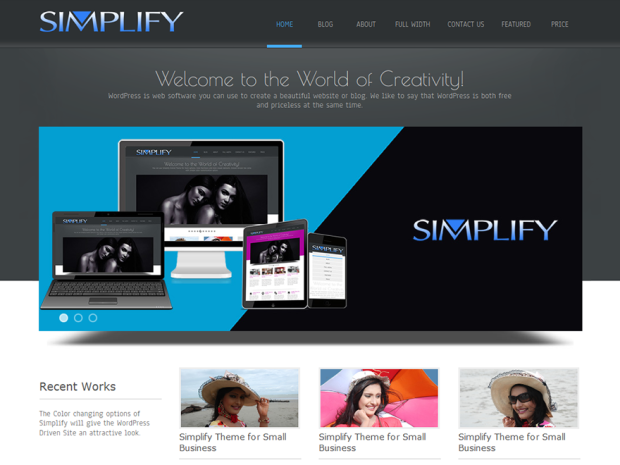 Touted as the perfect simple theme for small business by 5dCreation it definitely hits the mark for being simple and elegant. When I first downloaded this theme I was excited about the look of it and the ease of use. But as I dug further into the theme I found it wanting.
The Simplify Theme Looks Like it Will Deliver but Falls Short
This theme is by 5dCreation who seems to have quite a few themes under there belt. While this theme delivers as promised our review is based upon usage as a viable theme for online business. The creator of the theme describes it as thus:
Simplify is a CSS3 Powered and WordPress Latest Version Ready Responsive Theme for Small Business Companies. Exciting Slide, 02 Rows of Featured Boxes, Customizable Background and other options will give the WordPress Driven Site an attractive look. Simplify is super Elegant and Professional Responsive Theme which will be adjusted automatically with all smart devices. First and Second Row Featured Boxes can show your company's Featured Items, Services etc. Right and Footer Sidebar will be usable for showing the widgets. Full Wide Template can be used for showing showcase or other pages. Simplify is Translation Ready.
More Information Regarding The Simplify Theme
We tried this theme on a home storage website called theInnovativeGarage and when we first loaded it we were excited about the look and feel of it. I especially liked the quote section on the bottom, the picturesque slider, and the bottom social buttons. So I eagerly began to customize the website, convert pages, and rearrange the graphics and text to look good. It was all going so well, then the rails fell off for two reasons.
first we could not add Facebook to the bottom row of Social Media buttons, this is one of the most important social media platforms we use. So not to have this option was almost a deal breaker but not quite yet.
Second there are three featured boxes where you can put information about your services, body of work, or products and it looks great. But the biggest problem was you could not add links to these featured sections or make them clickable to go to other sections.
The support on the theme is good. And I cant find fault with the design, the creators, or their support. But this is a review of the theme and its use in online business. And for that reason the Simplify theme falls short and for one good reason. And this reason I understand, they want you to upgrade to the PRO version of the theme to make revenue. I get it, but one good way to make money on themes is to offer some really good themes for free.
Download the Theme Here
Most WordPress themes that are downloaded from the WordPress site have their own support forum located there. This one has a good support forum with most of the questions answered in a timely fashion.
We give the Simplify theme a rating of 1.5 with the only slight being the two reasons mentioned above.