WordPress Theme Review of Point a 5 Star Theme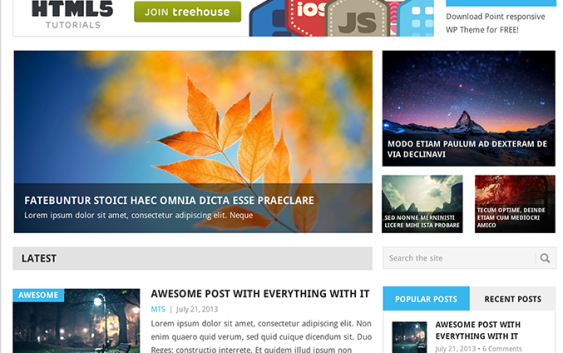 So I wanted to do an update on my personal blog with a theme that had kind of a magazine style to it, was responsive, and easy to configure. I chose the Point theme because it looked like it fulfilled all those needs. This theme did not disappoint and right from the beginning it was easy to manage and setup.
The Point Theme is the Perfect Theme for a Personal Blog
This theme is by mythemeshop who seems to have quite a few themes under their belt and many for sale. They seem to be in the business of creating great free themes and offering upgrades to a more deluxe version. I am ok with this concept as long as the free version is sound, and the Point theme is that. The creator of the theme describes it as thus:
Point is a FREE fluid responsive theme that is multipurpose and flexible. Through the advanced options panel, you can choose from multiple site layouts, backgrounds and color schemes, as well as control specific features of the theme.
More Information Regarding the Point Theme
We tried this theme on a personal blog gchanmako which is basically a hobby site for writing. From the very beginning of installing the theme I found it easy to use, and to setup. I dived right in and was able to change the look and feel of the website within a day. It has plenty of room for blocks of information a large sidebar, and a very cool footer. All easy to customize with widgets and a very large customize menu section. I was able to get it fully customized and up and running in less than a day.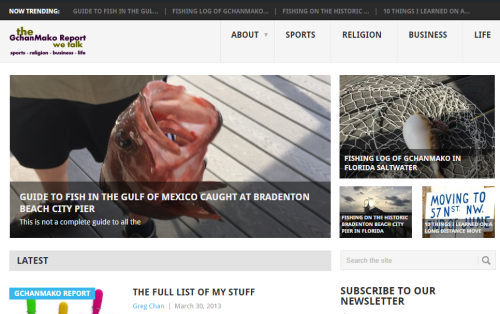 The theme is very responsive and looks good on any device.
I love the top block section which as one large block and three small blocks for a nice design area on the front page to show off your newest posts.
The menu system is nice and responsive and works well. The footer is very easy to manage and looks integrated and part of the site.
The sidebar looks integrated with the site and is large to hold large advertisements.
There are not many drawbacks to this theme and I was able to get all the features to work and with all my plugins.
The support on the theme is good with many pages of customization and tips on how to enhance the design and fix things others did not like. And I cant find fault with the design, the creators, or their support. But this is a review of the theme and its use in online business. And for that reason the Simplify theme falls short and for one good reason. And this reason I understand, they want you to upgrade to the PRO version of the theme to make revenue. I get it, but one good way to make money on themes is to offer some really good themes for free.
Download the Theme Here
Most WordPress themes that are downloaded from the WordPress site have their own support forum located there. This one has a good support forum with most of the questions answered in a timely fashion.
We give the Point theme a rating of 4.7 with the only deductions being that you can get a better version if you pay for it, and no theme is perfect now, is it! But like Customizr, this one comes pretty close.
Sponsored Links: