OBR Top 5 Affiliate Programs and Money Making Partners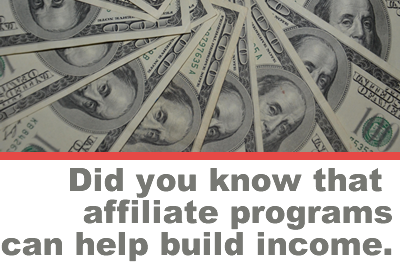 These are the top 5 affiliate programs we are using right now to build income for us on the Online Business Reef and our other sites. This list is just the programs themselves and we will be going into more depth on how and why we use each one.
The Online Business Reef Top 5
AMAZON AFFILIATE PROGRAM
: this is a great way to build a large affiliate program using all of the products on Amazon they pay quickly once you hit a certain threshold and you can earn an unlimited amount. You will need to produce either banners or text links as part of the program and it is free to join.
---
GOOGLE ADSENSE: this is an ad based program with either text based or graphic ads. You can control what is shown if you dont want to compete in your industry. It is very easy to setup but it is through Google so you need to make sure you maintain a site that adheres to their terms of service and you do not do anything to manipulate the clicks.
---
COMMISSION JUNCTION: In their own words "Since our start in 1998, we've led the growth of affiliate marketing from a small media channel to an essential part of the marketing mix for some of the world's most widely recognized brands. During that time, we've heard loud and clear from our customers that they want to find even more ways to reach and engage new and existing buyers in the same measurable way".
---
LINK SHARE: Rakuten LinkShare is a leading provider of full-service online marketing solutions specializing in the areas of Affiliate Marketing, Paid Search, and Customer Acquisition. Grow sales and find new customers with Rakuten LinkShare, trusted experts providing the industry with thought leadership, superior service and most importantly – RESULTS!
---
CLICK 2 SELL: Click2Sell is a digital products retailer, e-commerce and affiliate solutions provider for your online business.
Thousands of smart internet marketers and successful vendors are choosing Click2Sell affiliate network for its simplicity and security combined with state-of-the art tools and support. Our young and talented team is working hard to further develop it.
Join Click2Sell to get the most out of your web business with a few simple clicks.
---
There are a lot more affiliate sites that you can make an income with but these are the ones you should start with, they are proven honest and trustworthy with a track record of paying their affiliates on time and what they promise. We will be offering a more comprehensive write up on each affiliate in later articles. For now give them a try and see if you like them.