Learn How to Make Great Videos Easily Sony Movie Studio 13 Platinum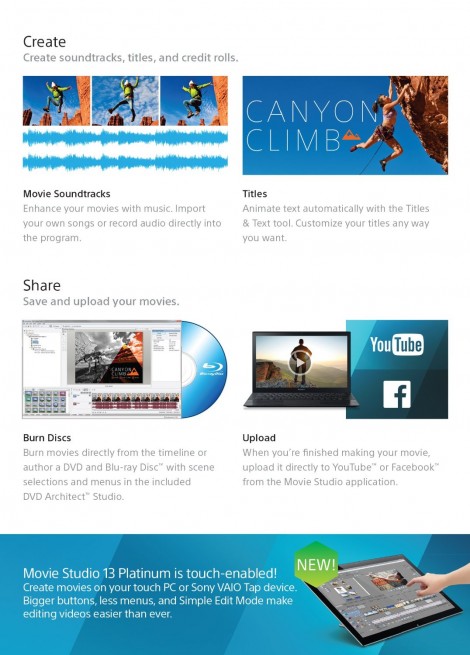 Sony Movie Studio 13 Platinum is the easiest way to make movies. It is Easy and powerful video editing with stunning results to get you the end result in a video that you want. We use this program to make most of our videos and love how easy it is to use and the productions it creates.
Average Customer Review: 3.9 out of 5 stars (14 customer reviews)
Easy and powerful video editing
Native 4K XAVC S file format support
Upload directly to Facebook
Touch-enabled for touch PCs
Help bubbles for easy guidance
Access two intuitive edit modes: Simple and Advanced. Create spectacular-looking movies in native 4K (ultra HD). Produce 3D video with innovative stereoscopic 3D editing tools. Access hundreds of video and audio effects. Personalize your movies with text animations, title rolls, scrolling credits, and more – all in Movie Studio 13 Platinum.
Movie making made easy
Action happens all around us and the best we can do at times is capture it. Harness the fun, the energy, the love so we can share it with others. Smart phones make it easy to capture those moments, but why not take the time to make a video that's as special as the day it was shot? Add finesse.
Add effects. But most importantly, add you. Show your best side with Movie Studio Platinum. Simple and Advanced Edit Modes Create movies on a touch PCEdit 4K (ultra HD) XAVC S filesStabilize shaky footage Upload directly to YouTube and Facebook View movies on Sony Xperia Z1 and other devices Mix and encode 5.1 channel surround sound Author a DVD or Blu-ray Disc.
Simple Edit Mode: Start in Simple Edit Mode; a great place to make basic edits and quickly finish your movie. Add titles, music, and video effects before uploading your masterpiece to the web.
Advanced Edit Mode: Create projects with multiple layers and effects. Edit 4K and AVCHD files on the timeline. Use compositing and color-correction tools to add a more polished look.
Movie Soundtracks: Enhance your movies with music. Import your own songs or record audio directly into the program.
Titles: Animate text in your movies automatically with the Titles & Text tool. Or, customize your titles any way you want.
Burn Discs: Burn movies directly from the timeline or author a DVD and Blu-ray Disc with scene selections and menus in the included DVD Architect Studio.
Upload: When you're finished making your movie, upload it directly to YouTube or Facebook from the Movie Studio application!
Minimum System Requirements: Microsoft Windows 7 32-bit or 64-bit or Windows 8 32-bit or 64-bit (including Windows 8.1) 2 GHz processor (multicore or multiprocessor CPU recommended for HD or stereoscopic 3D) 500 MB hard-disk space for program installation 2 GB RAM (4 GB recommended) IEEE-1394DV card (for DV capture and print-to-tape) USB 2.0 connection (for importing from AVCHD, XDCAM EX, NXCAM, or DVD camcorders) 512 MB GPU memory Windows-compatible sound card DVD-ROM drive (for installation from a DVD only) Supported CD-recordable drive (for CD burning only) Supported DVD-R/-RW/+R/+RW (for DVD burning only) Supported BD-R/-RE drive (for Blu-ray Disc burning only) Microsoft . NET Framework 4.0 SP1 (included on application disc) Apple QuickTime 7.1.6 or later for reading and writing QuickTime files Internet Connection (for Gracenote MusicID Service) You must provide your registration information to Sony Creative Software Inc. , a US company, in order to activate the software.
Product requires online registration. Supported Formats: Import: AAC, AA3, AIFF, AVI, BMP, CDA, FLAC, GIF, JPEG, MP3, MPEG-1, MPEG-2, MPEG-4, MVC, OGG, OMA, PCA, PNG, QuickTime, SND, SFA, W64, WAV, WDP, WMA, WMV, XAVC S Export: AAC, AC3, AA3, AIFF, AVC, AVI, BMP, FLAC, JPEG, LPEC, MP3, MPEG-2, MPEG-4, MVC, OGG, PCA, PNG, TIFF, QuickTime, W64, WAV, WDP, WMA, WMV, XAVC S