We Unbox the AVerMedia Live Gamer Portable HD Game Capture Device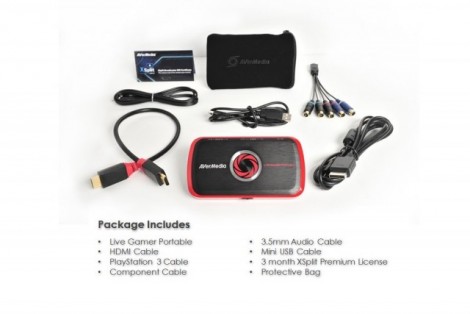 Avermedia makes a portable video capture device called the AVerMedia Live Gamer for video game commentary and other live video capture. We test the item for use for making videos on the Online Business Reef and for one of our entrepreneur trainers that does video game commentary and wanted to use and test this new device.
H.264 Hardware Encoding up to 1080p, 60Mbps; Extremely Low Encoding Latency (typically One click to record and stream PC, Xbox360, PlayStation 3, Wii and Wii U HD gameplay
"PC-Free Mode" for Recording On The Go (SD card not included)
USB 2.0 Interface, 1080p@60 HDMI Pass-thru for HDMI and Component Inputs. Compatible with Windows 7/8
3 month Premium License of XSplit Broadcaster
Super Sharp HD Quality Videos
With the on-board H.264 hardware encoder, Live Gamer Portable features 60Mbps recording bitrate, which generates ultra sharp quality footages and preserves every detail of the gameplay.
"PC-Free Mode" Option for Gameplay Recoding
PC-Free Mode allows you to record the gameplay without a PC. Flip the switch, insert an SD card, and you are ready to go! Under PC-Free Mode, Live Gamer Portable can be powered by your game platform via USB, and record the gameplay straight to the SD card.
Ultra Low Encoding Latency
Live Gamer Portable is proud to bring you a whole new streaming experience that you won't find in any other USB hardware encoding solutions today. With its encoding latency averaging only at 300 milliseconds, audio synchronization is no longer a problem when you make commentaries.
LGP: Your All-Purpose Recording/Sharing Weapon
Live Gamer Portable is an USB box that captures and streams your gameplay up to 1080p, 60Mbps. This pocket-size capture device comes with on-board H.264 hardware encoder, which guarantees low CPU usage and small file size even for full HD footages, not to mention the file format is extremely easy to work with for post-editing and uploading.
Live Gamer Portable supports a wide range of resolutions; it adopts HDMI and component connections and pass-thru via HDMI, which guarantees smooth HD gaming experience. On top of that, it can be directly connected to streaming services; you can even easily add live commentary when streaming. From now on, you can focus on gaming and sharing, and leave all the hassle behind.
We have done a video un-boxing of this item and a live video commentary as an example of quality and usage.