Constant Contact and Paypal Team Up for More Sales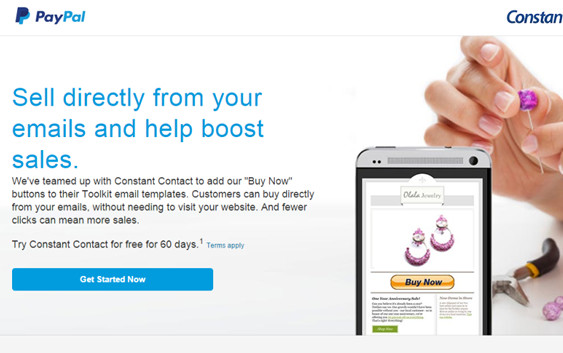 Constant Contact is a great system for you to stay in touch with your customers. Through email and social media you can send newsletters, plan events, run promotions and grow your social presence. With plans starting at $20 per month this might be a good piece of software to own. While we do not make any money off of this recommendation we are certainly not endorsing it.
Recently PayPal has teamed up with Constant Contact and together they are looking at ways you can use PayPal within Constant Contact to allow readers of your emails to purchase items.
We make it easy for you to drive sales by sending targeted emails that are optimized for the small screens of your customers' mobile devices and enable purchases directly through the email.
PayPal
What is cool about this is it allows you to make sales directly from your emails by letting users click on a PayPal buy it now button. Which is handy and convenient since a lot of people use PayPal. Now obviously this as a way for both companies to make more sales of their products but ultimately if you are a user of these two products it can provide a powerful tool to allow users to easily by products you send an email about.
So check it out at PayPal and see if it is right for you.
---
Sponsored Links