Get a Fast Alexa Ranking with These Quick Tips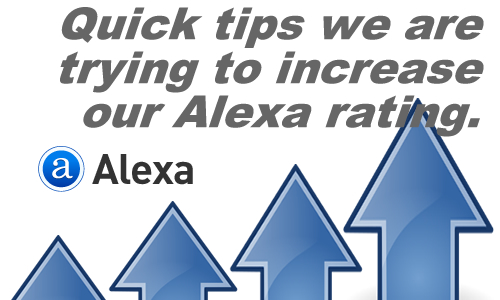 So we just started putting together the Online Business Reef and we are looking at our Alexa rank. We are not concerned about it from the standpoint that we need to have a rank to feel that our site is successful. We are trying to get it as a measure of our website traffic testing experiment and to get a measuring stick against other sites.
So we are not ranked right now and we want to get a fast Alexa ranking. After writing this article we have put the following quick tips in place to see how they work. These were done immediately before this article. The second phase will be done in the coming weeks. We will report back on our progress. On the bottom left hand corner of our site we put an Alexa widget to measure our ranking.
First Phase Quick Tips
These are the easy and quick tips we did to start to get an Alexa ranking.
1. Let Alexa Know About Your Site

So the first thing we did was claim our site on the Alexa website. To do this you need to go to this page on their site and enter your URL. From there you will need to enter a verification code from Alexa into your website. Now if you have a WordPress site like we recommend you can put that code in a plugin for SEO like the one we recommend here. This is by far the easiest way. Once you claim your site you can enter your address and other information if you want. Once you enter the code and verify it, then you have completed this task.
2. Surfing with the Alexa Toolbar in your Browser may Help
Install the Alexa toolbar in your browser, this will allow you to see your site rank and other measurements. Also when you visit other sites with Alexa rankings and you have this toolbar you may get extra SEO juice for your ranking. We installed this toolbar to see if this is true. To get the approved toolbar from Alexa go here, please note that this is only for Firefox.
3. Putting the Alexa Widget in Your Website
By installing the official Alexa website widget you can get here you give a link back to them and some credibility to your site, especially when you come across other sites with the same widget installed. So these three easy tips will take you about 10 minutes to do. Once you have done this you can focus on pursuing other traffic and SEO techniques. Then I would write a review somewhere on your blog about this service, similar to this article.
Second Phase Strategies
These strategies will take longer to implement and see results from. They are still valid and are even part of other good SEO techniques, so you should employ them as a normal part of your SEO routine. So since these are explained in detail in other articles they will simply be listed here.
Write as much content as you can. It is a blog, write long articles mostly and short ones as well. UPDATE your blog regularly which includes posting more often.
Try to go to other bloggers in your niche and have them send traffic to your site and you to theirs. Start small don't go to the top guy demanding a link to one of your articles.
Along with links back to some of your better content you should comment on other blogs and make sure your comments include a back link to your site.
Take advantage of Social Media and follow others in your industry, and post all of your blogs and articles.
Try submitting your Blog to the top blog directories.

Submit to these high powered directories when you have time.
So we will let the community know when we get any updated to the rating from Alexa. In the meantime I welcome any comments you might have on other techniques. Remember stay online and be great!
Winner Winner Chicken Dinner the Results are In
So we launched this article on 7-13-2014 and from there back we had zero Alexa ranking statistics since the launch of this website. In only 8 short days we finally achieved our first Alexa rating with the statistics shown below. So I would say that this experiment is confirmed and the tactics employed here do work. As last follow up we did a two week later check in with Alexa.
DATE: 7-21-2014
Global Rank: 8,343,033
US Rank: not measured
Bounce Rate: not measured
Daily Page Views Per Visitor: 7
Daily Time on Site: 9:34
DATE: 8-2–2014
Global Rank: 2,073,952
US Rank: 186,466
Bounce Rate: not measured
Daily Page Views Per Visitor: 15
Daily Time on Site: 24:13
DATE: 8-9–2014
Global Rank: 979,493
US Rank: 85,749
Bounce Rate: 9.40%
Daily Page Views Per Visitor: 16
Daily Time on Site: 26:38
EXPERIMENT RESULTS: Confirmed