111 Strategies to Drive Massive Amounts of Traffic to a New Site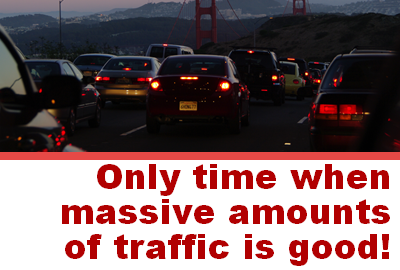 We are putting together a list of 111 plus test strategies for massive amounts of traffic for our online business venture. Each tip will eventually be followed up by a test of the tip where we try each one and measure the results and share them with you. We will break these down into specific categories to help with sharing the results.
GENERATING TRAFFIC FROM OTHER WEBSITES
Before you launch make a list of the top 100 websites, blogs, magazines, and e-zines that you want to send a website launch or product introduction to. When you are ready to launch send out a personalized email blast to them.
Submit a Press Release to one or all of these well used PR sites for free. This is not considered as a good SEO tactic as it once was due to Google downgrading their importance. But press releases are still searched for information on companies and products.
Write articles on an article site to share your expertise and gain traffic referrals from them.
Try and take a look at HARO and see if there is a news or PR request you can answer. HARO stands for Help A Reporter Out and lets you give content to reporters who can drive PR back to your site.
Go onto Forums in your area of expertise and comment and and add your advice in a non-spammy way so that you add value to the post. Then you will be able to put a link back to your site.
Use Attracta for some great FREE SEO tools and a quick way to get a link to your site in their large directory. They also have a paid system for inclusion into a much more comprehensive SEO traffic program.
Consider Google AdWords or other PPC (pay per click) services that can drive traffic to your site based on keywords you choose. You setup your budget and ads, and you can even test them to make sure the money you are spending are producing sales.
Stay away from traffic exchange sites, build traffic organically.
Commenting on other blogs is a great way to get a link on to their site. Use a site like Disqus to help with creating valid links back to your site.
Use a site like Easel.ly to make info-graphics to put on your site. It is easy and fast and has a lot of different templates to choose from.
Setup and sell from a site like eBay, Amazon, or Etsy. Make sure your user name is the same as your URL and you will get people who naturally go to your site.
Consider a program like Amazon fulfillment if you sell a product of your own. You can gain a loyal brand following and sell your products on the Amazon network. You simply ship stock to them, they fulfill and take care of the rest. You can put all kinds of brand advertising in the packaging you send to them.
GO TO #2 – GENERATING TRAFFIC FROM PEOPLE